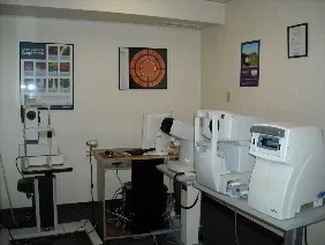 Our Therapeutic Optometrists and Optometric Glaucoma Specialists take their time to determine your vision needs and give you lifelong great vision. We perform a detailed assessment of your eye health using state of the art technology.
An Optometrist will personally check your vision and perform a refraction, which determines your eyeglass or contact lens prescription.
We will check your eye health for eye pressure, peripheral vision, and take a digital picture of the retina which is the inner lining of the eye.
Did you know that diabetes, high blood pressure, and many other systemic diseases can manifest in your eye? Our Doctors will thoroughly check your eyes for these and other conditions.
We offer several specialty tests which can further evaluate visual problems.
These tests include:
Visual Field Testing which can test the eye for vision defects.
Optical Coherence Tomography which gives a 3-D image of the retina or optic nerve for a more detailed evalution.
Corneal Topography which gives a map of the cornea, which is the front part of the eye.
Corneal Pachymetry which measures the thickness of the front part of the eye.